Open Botanique
Define a data model for publishing city vegetation related information. (For eg hay fewer patients, bee keepers, ..).
Click here for the details of the project.
Available Open data about the city vegetation:
Implemented project with Open Botanique data: Connected Bee Hives
Implement connected beehives in cities to produce high quality food through short distribution channels and to contribute to a better management of the urban green spaces, leveraging:
Open data about the urban vegetation
Data and information collected by the connected beehives the new business model of urban beekeeping
Leverage technology to urbanize wildlife (bees) and rural activities (beekeeping) in urban farming processes needs to address three main challenges:
Neighbourhood support (avoid swarming, communication)
Accessibility and logistics optimization (sustainable business model) demonstrate the positive impact on the quality of life (local food & green fields)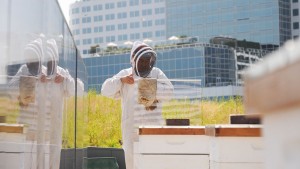 From beekeepers point of view, this principle disrupts with the traditional business model because the beekeeper's revenue depends more on the quality and quantity of services instead of production. Thanks to this new approach, an important part of urban beekeeping jobs will be opened to specialized technicians. For environment and quality of life, green fields and urban parks may evolve as more "natural areas", with a better understanding of the natural processes by the city inhabitants.
More info regarding a use case with connected beehives using this Open Data.
---
More open data from the OASC France cities you can find over here.